3D Printed Halloween Decorations
With the spookiest holiday just around the corner, the Magigoo offices are in desperate need of some redecorating! So before you start getting in your Christmas spirit, take a look at these 3D Printed Halloween Decorations. They range from small and simple critters, to larger and more detailed limbs. Try not to get too scared while scrolling through these decorations!
Small Spooky Spiders
This first print is a very simple yet effective one. With around 5% of the world's population claiming to be arachnophobes, hanging these little spiders around the office will surely unnerve some people. If you want to go down a more devious route, you can always plant a few of these spiders in unsuspecting colleagues' workspaces. Then all you have to do is sit back, and enjoy their reaction.
The print was found on Thingiverse, through this link. This spider print was done in Black Fiberology ABS. Since the prints had very little contact with the build plate, due to their small size, Magigoo Original was used to ensure a good bed adhesion. To add on to the spookiness of the spider prints, you can dip them in boiling water for a few seconds. This will soften the material enough and allow you to bend the legs and give them a more realistic shape.
Spookiness Rating : 8/10. While the print is very simplistic and basic, a small spider can go a long way to spook or scare a friend! For a better chance at scaring your family or friends, print multiple spiders, and sprinkle them around the house / office.
Pumpkin with Witch's Hat
This one is less of a spooky print and more of a traditional 3D Printed Halloween decoration. Pumpkins have been used worldwide to symbolise this holiday for years, and are one of the most prominent decorative pieces. But who needs to carve an actual pumpkin when you can 3D print one with the face already cut out?
This specific pumpkin has a slight twist to it, since it's bearing a witch's signature black pointy hat. While the eyes are fully cut out, the mouth is just indented inwards, which makes this print a perfect candidate for your small candy bowl. It will easily store a number of small pieces of chocolate or candy, and can even be 'closed' with the hat.
This 3D printed Halloween decoration can be found on Thingiverse through this link. The pumpkin was printed using orange Polymaker Polylite PLA and the Hat was printed with Polymaker's Polylite Black ABS. Magigoo Original was used to ensure that both parts remained adhered to the build plate.
Spookiness Rating : 5/10. While the pumpkin is not inherently spooky, with some slight adjustments and additions it can definitely give off eerie vibes. Simply putting a flickering LED tealight candle inside it will create some dynamic shadows. Alternatively, this print can be used as a small bowl to put sweets in for any trick or treaters.
Classic White Ghost
Another signature Halloween symbol is of course, the ghost. Ghosts have appeared in many different forms over the years in pop culture and decorations. There are the scary human-like ghosts that haunt movie screens throughout the year. There are the friendly cartoon-like ghosts, such as Casper the Friendly Ghost, who are not spooky, but are more child friendly.
Then, there are the classic 'White Sheet Ghosts'. These became a very popular Halloween costume for all ages, since it is so simple to recreate; just get a white sheet, cut two eye holes in it, and make sure to make some spooky sounds as you float through the streets.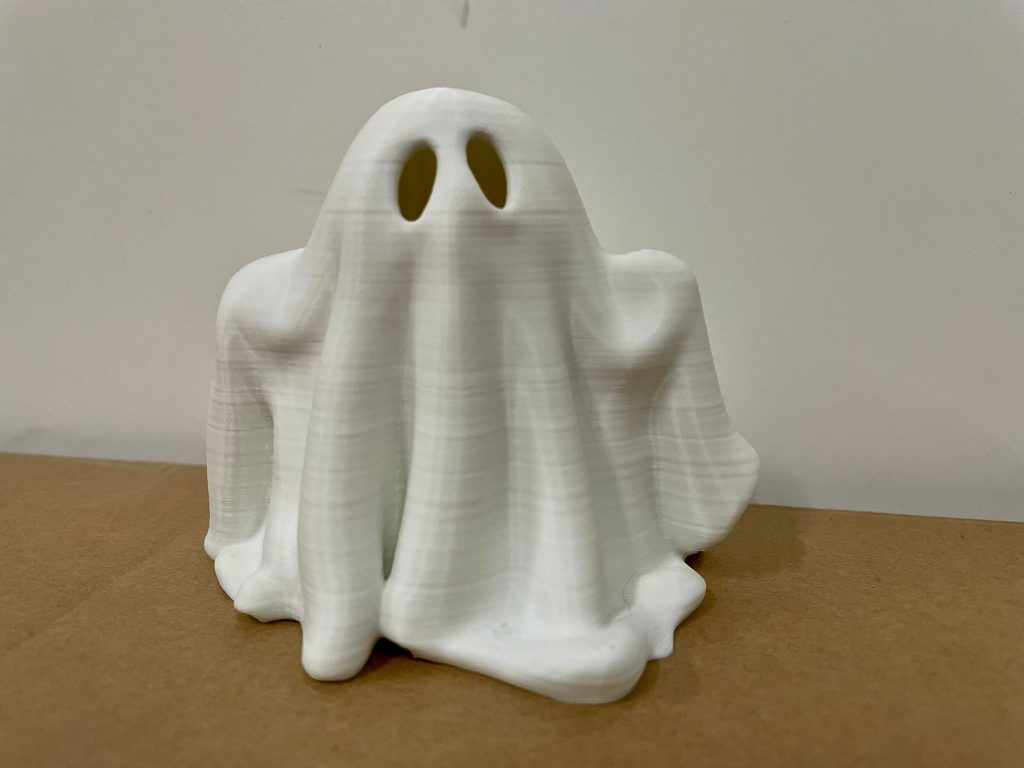 This model of this 3D printed Halloween decoration can be found on Thingiverse through this link. It was printed using white Polymaker Polylite PLA. Supports were not necessary for this print. Magigoo Original was used as a build-plate adhesive to keep the ghost from flying away as it was being printed.
Spookiness Rating : 5/10. While this little sheeted ghost might not be the scariest decoration on this list, there's an element of nostalgic classicality to this simple ghost.
Creepy Hand
The final addition to our array of 3D printed Halloween decorations is the Creepy Hand. This detailed appendage can be hung on the wall by means of a hole in the bottom face. This would make it look like this ghostly hand is coming out of the wall. Pair that with some LED's on the inside of the hand, and you've got yourself the creepiest night light for your Halloween party! This hand features some very protruding veins, which add to the detailed creepiness.
This creepy print was found on Thingiverse, through this link. This Thingiverse link provides STL files for different hand styles and positions. This particular hand that we 3D printed was chosen due to the fact that it can be printed without supports. Having multiple of these lined on your walls or floors will certainly spook any visitors!
It was printed in white Polymaker Polylite PLA. We chose white to allow for the possibility of further detailing through painting. This print, having such a high height-to-base ratio, would have been challenging to print. However, with Magigoo Original, the print stuck in place, and was removed very easily once the print was done.
Spookiness Rating : 10/10. These hands are definitely the spookiest 3D printed decoration we have found for this season. Once they're painted and stuck to the walls, with possibly some LEDs hidden inside, they will be a great addition to any Halloween aficionado's decorations.
We hope that this blog post has given you some ideas for 3D Printable Halloween Decorations! Stay tuned for our future blog posts, and in the meantime, have a Spooky Halloween!