How is 3D Printing Making an Impact on Education?
Nowadays, a great number of people talk about students losing interest in school and learning in general. This is not a big surprise if you think about what education in the classrooms looked like 100 years ago vs now. There's not much of a difference, here's a visual example:
However, with the implementation of technology many things can change. Contrary to the industrial way of preparing obedient and mass-educated working class, there is a push for making education interesting again. With robotic and AI revolution, future needs independently thinking creatives.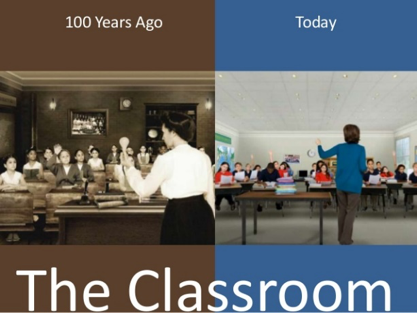 Enriching education experience with 3D printing
We see as one of these education enriching technologies to be 3D printing and it's good to see that 3D printing is getting widely spread in classrooms from elementary school all the way to universities, making learning more interesting for students and adopting this new technology into their lives.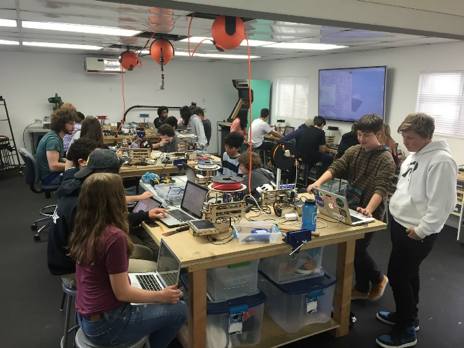 Win-Win
3d printing will not only solve some of the boredom and help to educate more creative makers, but it also will help companies shift their class of labour. The demand of the labour market for people who know about 3D printing is growing fast and companies knowingly help education with 3D printing with perspective of growing 3d printing savvy people. Many major companies throughout the world already see 3D printing as one of their key activities for many different reasons, such as cost and time reduction, or mitigating risk. Pratt & Whitney for instance has invested millions of dollars into education with their Pratt & Whitney Additive Manufacturing Center at University of Connecticut.
Early adopters lead the way
To our great surprise, there are many schools and universities who have already adopted 3d printing. For example New Jersey's Montclaire School District put a makerbot 3d printer in every school in the district. This was one of the first ones to do this, now most school districts in the United States have 3D printer in their schools. This is happening all around the world – As a random example in New Zealand, one of the first schools to implement this technology was Pakuranga College, and they promote innovation and experimentation to their students through 3D printing.
Education friendly 3D printing manufacturers
One of the drivers behind accelerated adoption of 3D printers in education is the dropping prices of the technology. 3D printers have become a lot more affordable since they first came out in the market, however, it is still hard to put 3D printers in every school, this is why many 3D printer manufacturers are trying to help schools through different means. One example is Makerbot, supporting education with 8 Makerbot Innovation Centers in different universities throughout the United States and even in Italy and Hong Kong.
Other big companies such as Ultimaker and Hubs have online forums and communities that give a chance to teachers and students to engage in those communities and share ideas or resolve any problems related to 3D printing. The universities themselves are also coming up with ways how to engage students more by implementing 3D printing in different courses. For instance NCSU is using additive manufacturing in all core mandatory manufacturing courses in their undergraduate program. However, 3D printing doesn't necessarily have to be for manufacturing courses, it can also be implemented in Biology, Chemistry, Engineering, Design, Geography, Architecture, and much more.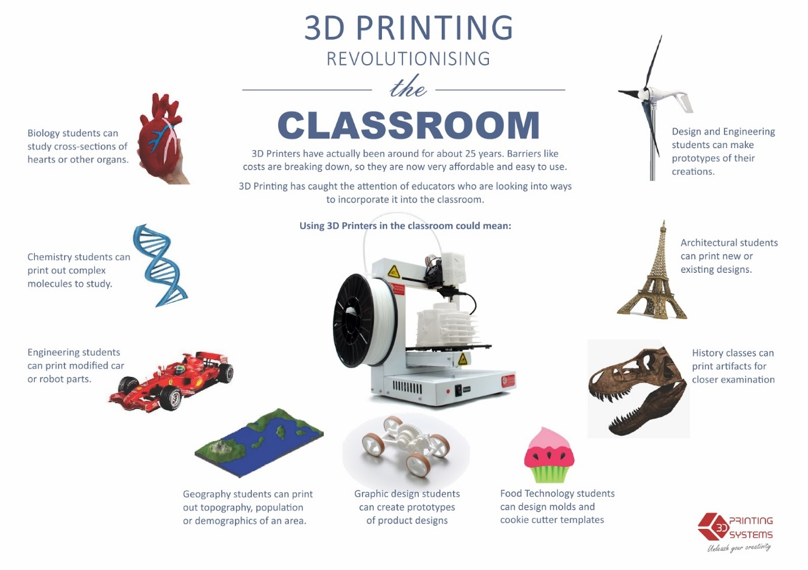 3D printing beyond the class
3D printing is also entering students lives through extra curricular activities.
For instance most innovative companies hold contests and challenges where students from all over the world can participate for a chance to win some kind of award. One of the most interesting contests that has gotten a lot of attention is Print the Future Competition by the National Space Society's Enterprise in Space programme, where the participants can send their 3D designs to be manufactured in space and then returned to Earth. Another competition is held by Stratasys with its annual Extreme Redesign Challenge, that consists of redesigning an existing product to improve how a task is accomplished. These are just two examples and you can find many more on http://www.3dprinterworld.com/contests-design-challenges. Usually the prizes involve money for scholarships, 3D printers, material/tools for 3D printing, among other things. This type of incentives motivate students and teachers to be more creative and design new things or redesign existing ones not only to contribute to the development of this technology, but to society as a whole.
Fablabs and makerspaces can help schools to adopt 3D printing
One of the challenges that schools face is integrating this technology into different courses, but thanks to the implementation of Fablabs and Makerspaces in schools, 3D printing is becoming easier for both students and teachers. Although these creative spaces aren't used as the conventional classrooms, they are spaces with high-tech machines and tools where students can go any time to work on their projects and get their creativity going. There is a continuously growing number of Makerspaces and Fablabs (around 1K Fablabs around the world). Labs are fully equipped with the necessary things to learn and develop.