Meet the new Magigoo HT for High Temperature Materials and Magigoo Flex for TPE Materials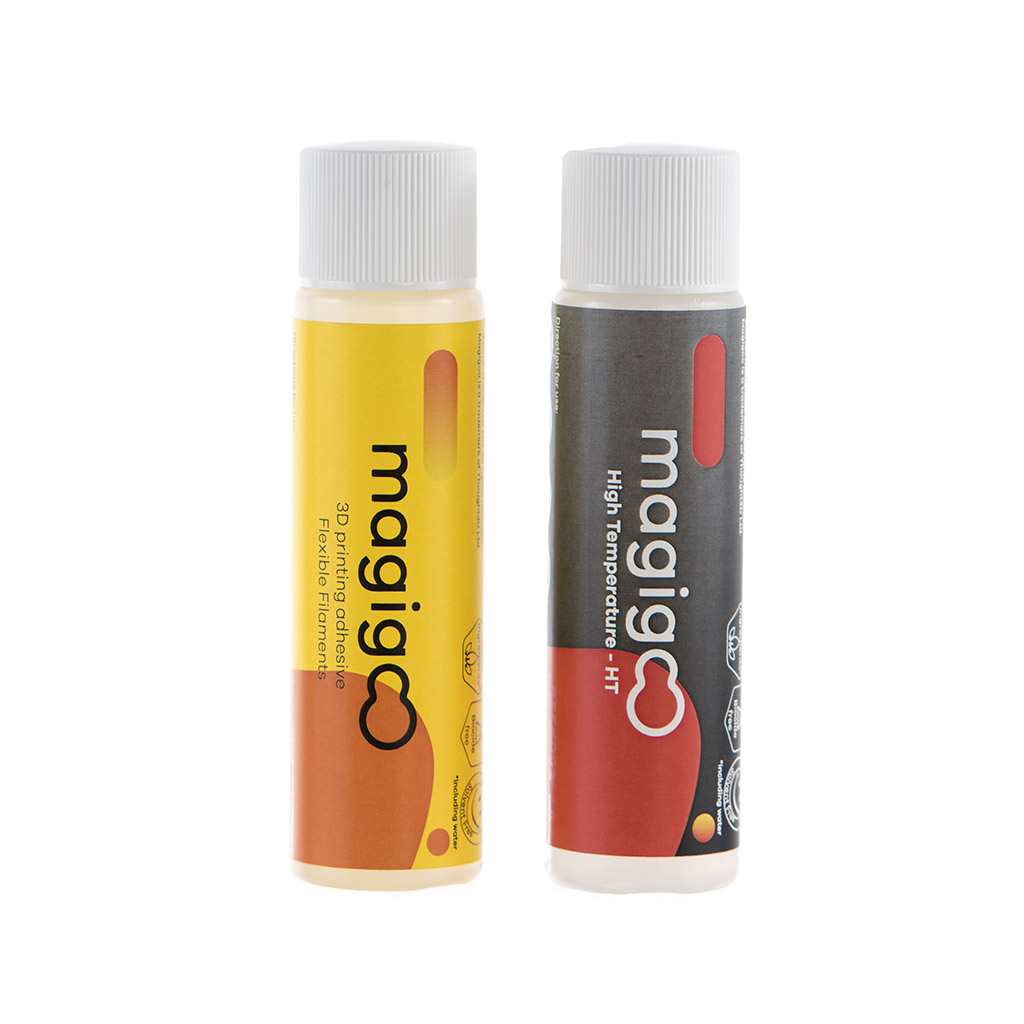 New formulations – New possibilities:
Magigoo HT (High Temperature Materials)
Magigoo HT has been specifically developed for High Temperature 3D printing materials. This includes the family of semi-crystalline thermoplastics of Polyaryletherketone (PAEK). These materials offer excellent resistance to temperature, chemicals and wear when compared to other thermoplastics. PEK, PEKK, PEEK and PEKEKK are all members of this family. Adding carbon or glass fibres can even further reinforce these materials. Their excellent properties, mainly their chemical inertness, high temperature resistance and high mechanical strength and stiffness, make these materials highly sought after especially in the automotive, aerospace and medical industries.
In FDM 3D printing however filaments of these materials prove very challenging to print, due to their higher warping tendency. They generally require a higher nozzle printing temperature and a heated chamber for best 3D print quality.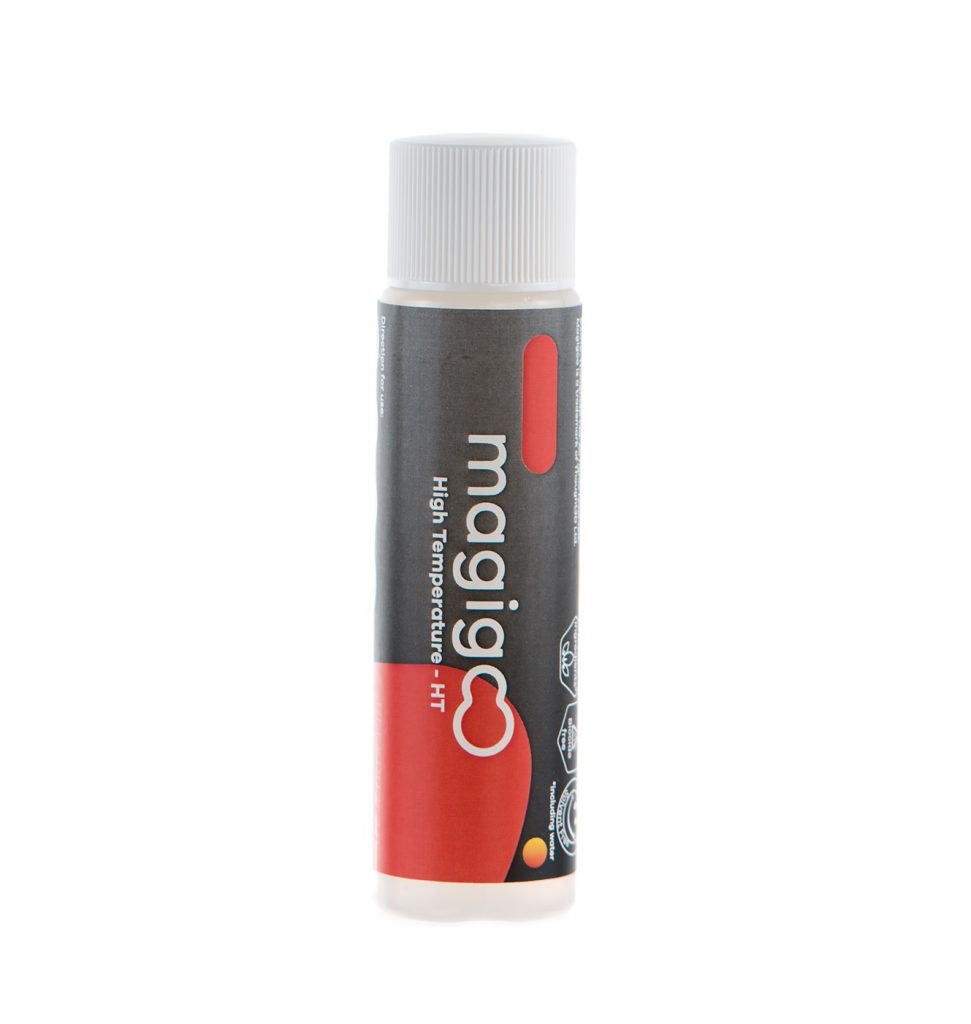 Since we developed Magigoo HT specifically for High Temperature materials, such as PEEK, it can withstand build plate temperatures of up to 150°C.
Dr. Brandon Sweeney, Head of R&D – Materials at Essentium Inc., who has been testing Magigoo HT had the following to say "We love using Magigoo HT with Essentium PEEK filament! We used to have parts come off our bed when using PVA, but since switching to Magigoo HT we have not had a single print failure from poor bed adhesion."
Magigoo Flex
Magigoo Flex is created for Thermoplastic elastomers (TPE) – a class of polymers that behave like thermoset rubber but can be processed like a thermoplastic. Thermoplastic elastomers exhibit rubber like properties like softness, flexibility and resistance but at the same time have better recyclability, require lower energy for processing and are available in standard uniform grades. These advantages make TPEs very desirable in industrial applications.
Being able to directly 3D print TPEs is especially interesting for industry, but can prove very challenging. Some TPEs show lower adhesion to conventional 3D printing build surfaces and have a high tendency to warp, whilst others tend to stick too well to untreated 3D printing surfaces like glass and PEI.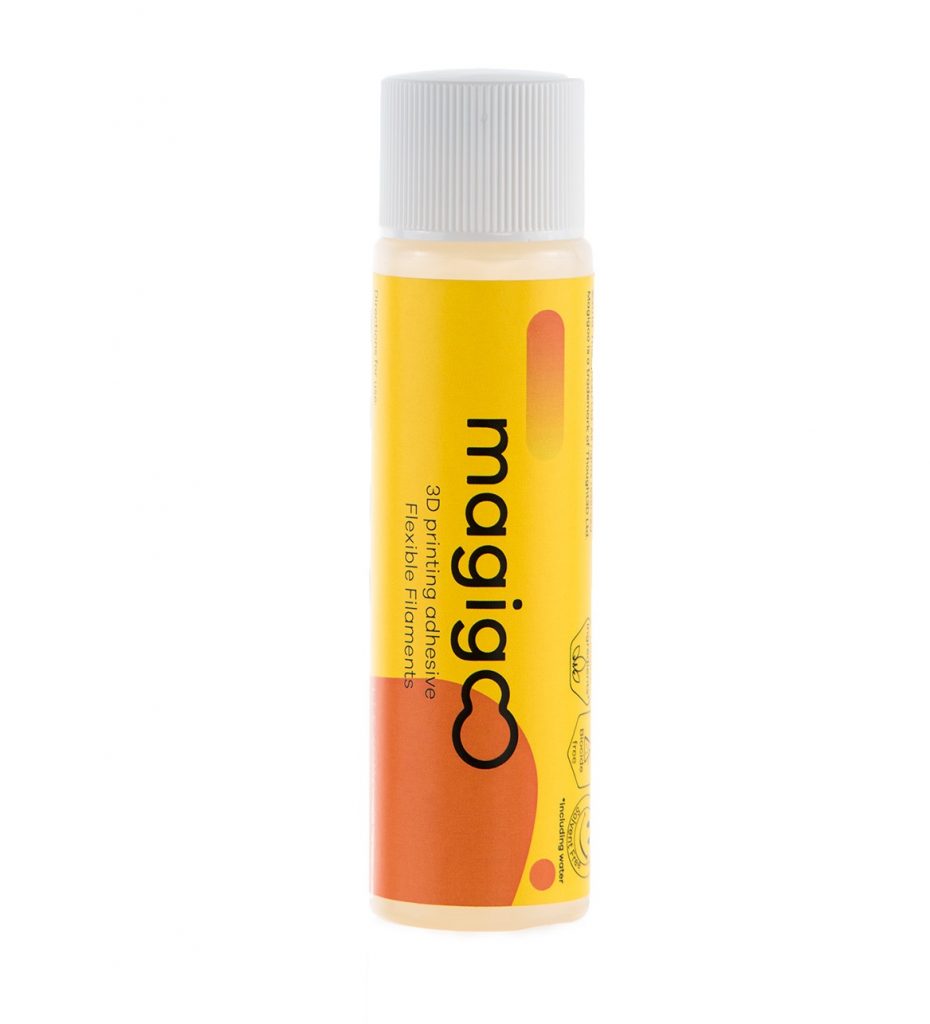 "Magigoo Flex was designed specifically to act as the intermediate layer between the printing part and the build surface in order to offer both a good adhesion and a satisfactory release", said Jean Paul Formosa, chemist and Magigoo developer. "It was not easy to find the perfect balance between the two desirable effects", he continued. The fact that Magigoo Flex works with many different flexible type filaments, corroborates this even more. Magigoo Flex works effectively with DuPont Hytrel, DSM Arnitel and others.
We have been printing with these types of materials using our Magigoo Flex successfully for quite some time already. Check the blogs for some examples.
Respecting our environment
Most importantly, as our co-founder Dr. Keith had to say, during all the developments and activities that we do we always keep in mind the environment. We respect nature and employ materials which reflect this wherever possible. "Creating new adhesives for really high performance engineering filaments has not been an easy task. Despite of all the challenges, we have still managed to create state of the art adhesives and managed to keep the formulations of our adhesives environmentally friendly and water based" Dr. Keith M. Azzopardi, Co-founder and Chief Scientific Officer at Thought3D.
Stay tuned
Stay tuned for more blogs discussing use cases of High Temperature, Flexible or other materials.