Getting the best out of Magigoo: FAQ part 2
Here at Magigoo we strive to ensure that you, the user has a smooth and reliable 3D printing experience. We do our utmost to make our products easy to use and to continually improve the performance and user experience of our products. We have included some information from your feedback and questions below. This is part 2 of our FAQ blogs, part 1 can be found here. For more information about Magigoo products and how to use them more effectively, please find a downloadable Magigoo Manual.
1. Which Build-plate materials are compatible with Magigoo Adhesives?
Magigoo adhesives are primarily optimized to work with glass build-surfaces. Nonetheless, in most cases you can use Magigoo adhesives with most common 3D printing surfaces, without a noticeable loss in adhesive performance. These include PEI, Buildtak, Kapton Tape and Glass ceramic surfaces. In fact in most cases Magigoo can actually help prolong the life of the aforementioned surfaces as it acts as an interface layer.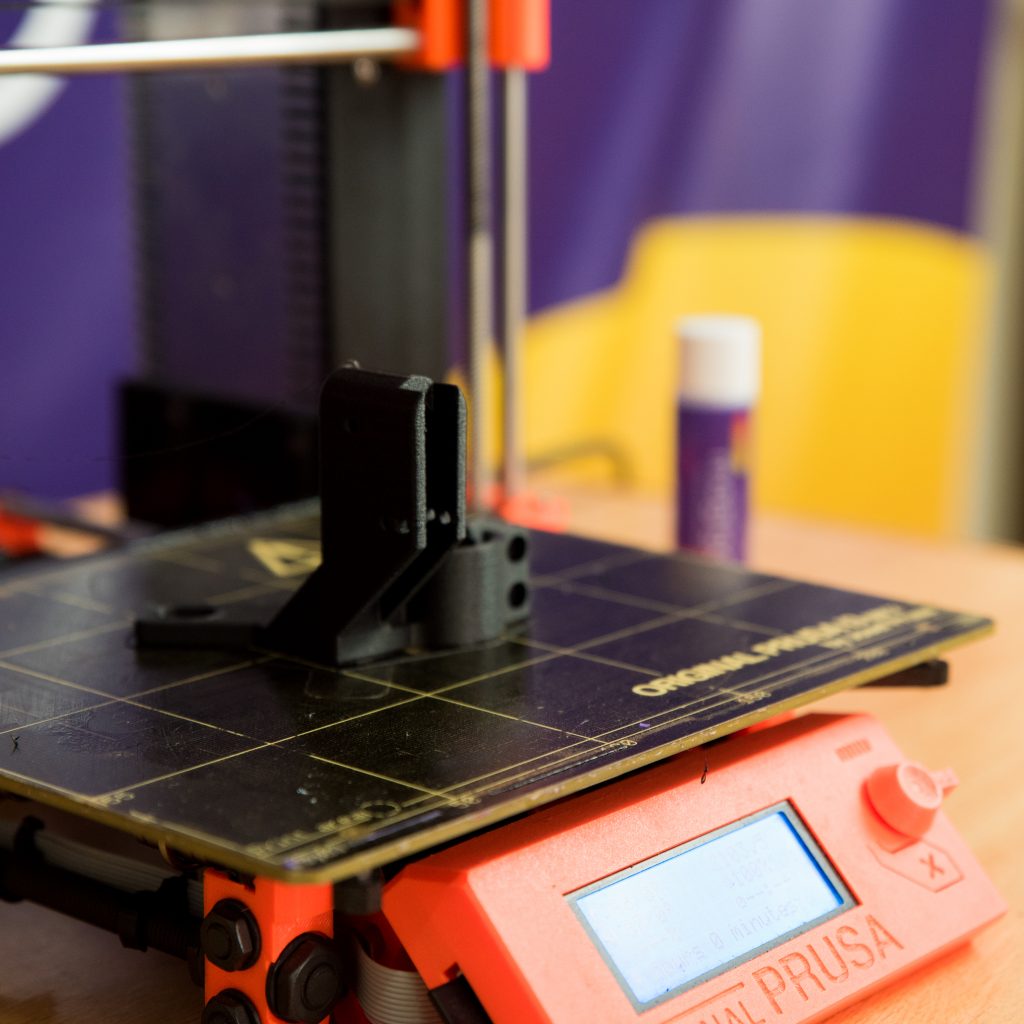 In some cases the use of different printing surfaces might require that the first layer settings are tweaked accordingly. Using the appropriate Magigoo adhesive will still increase the first layer adhesion capabilities of the build surface, however, some materials might show a noticeable drop in performance when compared to using Magigoo on glass with the same material.
2. Which Magigoo adhesive and printing settings should I use?
| | | | |
| --- | --- | --- | --- |
| Material | Magigoo Type | Build-plate temperature | Chamber Recommendation |
| PLA | Original | 50-70 °C | Open |
| PET-G | Original | 60-90 °C | Open |
| PET | Original /HT* | 60-90 °C | Enclosed |
| Carbon filled PET | Original | 60-90 °C | Enclosed |
| CPE | Original | 60-90 °C | Enclosed |
| ABS | Original | 80-110 °C | Enclosed |
| HIPS | Original | 80-110 °C | Enclosed |
| Nylon | PA | 60-100 °C | Enclosed |
| Glass filled Nylon | PA | 60-100 °C | Enclosed |
| Carbon filled Nylon | PA | 60-100 °C | Enclosed |
| PP | PP | 60-90 °C | Enclosed |
| Glass filled PP | PPGF | 70-100 °C | Enclosed |
| PC | PC/HT** | 90-120 °C | Enclosed/Actively Heated |
| TPU/TPE | Flex | 50-100°C | Enclosed |
| PEEK | HT | 150 °C | Actively Heated |
| PEKK | HT | 150 °C | Actively Heated |
| PVDF | HT | 100-150 °C | Enclosed |
| BASF 316L | Metal | 100 °C | Enclosed |
*Some CPE materials might benefit from using HT instead of Original due to their higher temperature requirements. This includes Essentium PCTG+ and Eastman Amphora HT5300
** Some PC materials such as Kimya PC-S have higher temperature requirements, in this case Magigoo HT should be used since this adhesive can withstand the printing temperatures
The table above gives a rough indication of which adhesives and build-plate settings to use with different FDM materials. You can also find more specific recommendations with materials we have tested with out adhesives in our Tested Materials Database. This database contains optimised print settings for different Material and printer combinations. Note that since all 3D printers and printing environments are different, the data provided in this table should only be used as a guideline for the optimum printing settings on your machine. Further refinement of the printing parameters might be needed for the best printing results.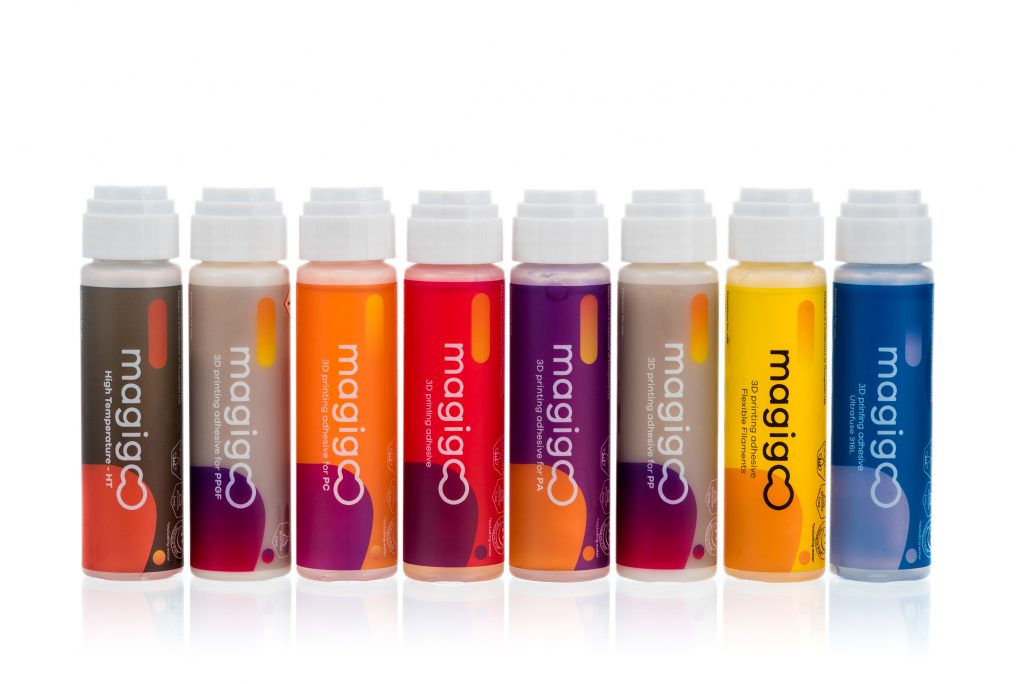 3. Why are larger prints warping?
In most cases you can be flawlessly printing smaller sized parts with no warping issues, however on attempting to print larger parts, the parts start warping. This normally happens due to a couple of reasons: firstly since larger parts tend to warp more due to their size and additional printing materials.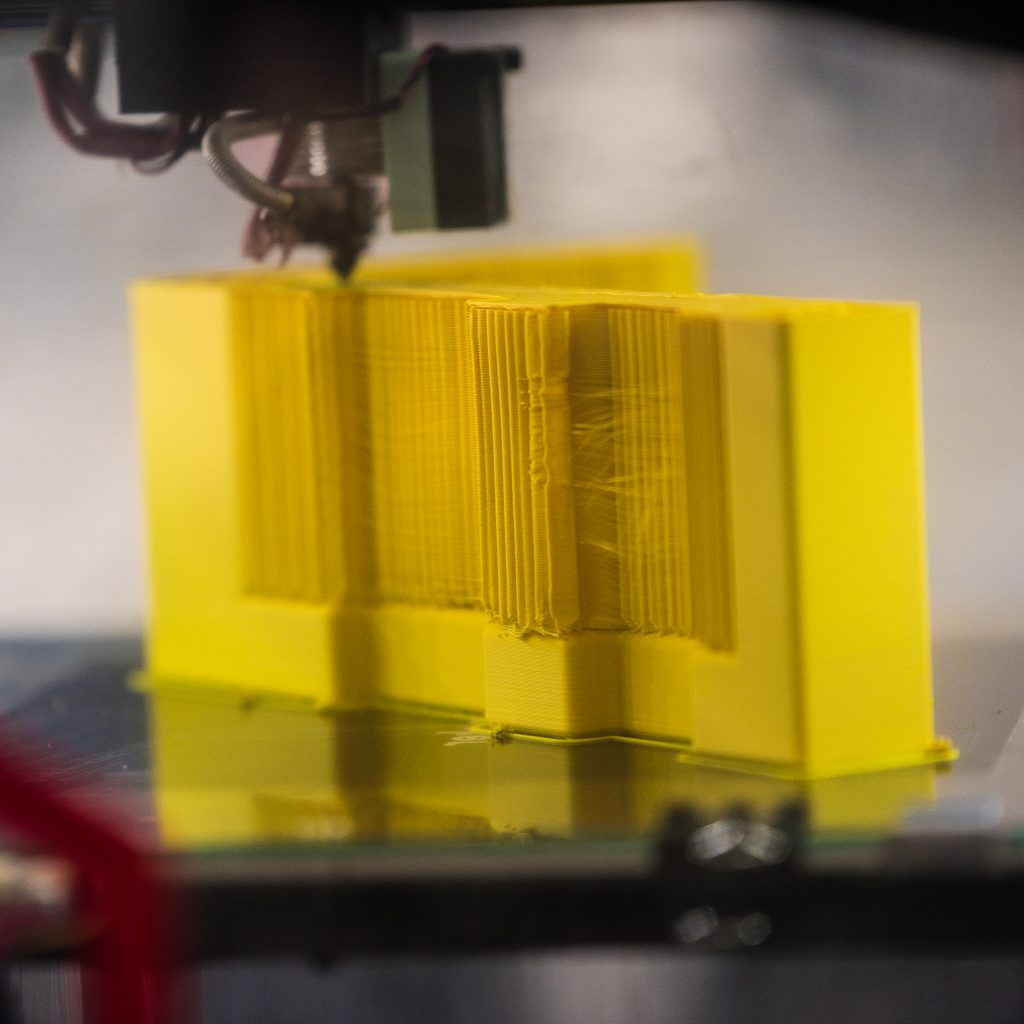 Secondly some printers tend to have the build plate colder at the edges, especially in non enclosed printers. This can lead to prints lifting towards the colder areas of the build-plate. In this case the warping can be controlled by using an enclosure or by increasing the build-plate temperature.
4. What is the best adhesive for TPU/TPE/TPC?
With regards to adhesion TPEs generally tend to show two types of behaviors. TPUs typically adhere too well to most printing surfaces, this means that while adhesion is not an issue during printing, removing a print can be quite difficult. As a result there is a good chance that the soft and flexible part can be damaged during print removal. In the case of TPUs Magigoo Original can be used since it generally provides enough first layer adhesion.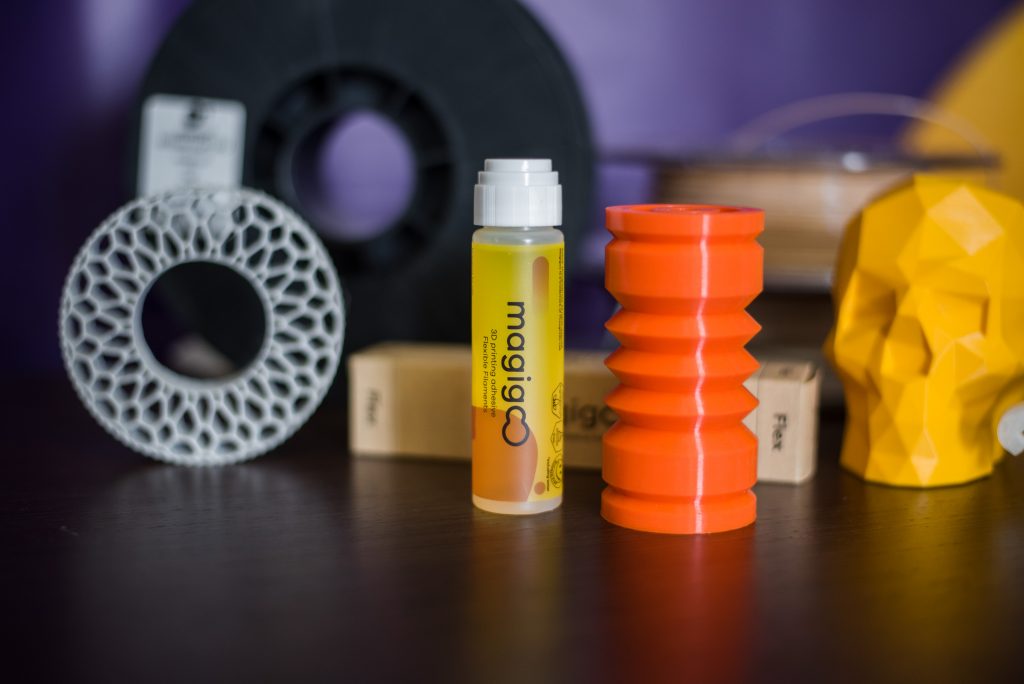 On the other hand other TPEs and TPCs usually do not stick too well to most build-plate surfaces which means that warping will be a significant issue. In this case Magigoo Flex is required to provide the addtional adhesive force needed. As a first layer adhesive it provides a strong adhesive base for high performance TPEs such as DSM Arnitel, DuPont Hytrel and other TPCs and TPEs. On the other hand it ensures that TPUs and other flexible materials which tend to stick too well can be very easily removed from build surface just by the application of water.
5. My CPE/PET materials are warping, what can I do?
PET – Polyethylene Terephthalate or CPE – Co-Polyester type materials describe a number of polymers which can vary significantly in chemical composition and thus in physical and chemical properties. As a result different CPE/PET type materials might require different printing settings.
Nonetheless in the majority of cases most CPE materials will benefit from using slightly higher build-plate temperatures when using Magigoo Original.
6. From where can I buy Magigoo?
Due to the current situation we recommend buying Magigoo from Amazon or a local reseller, you can find a reseller close to you from here. Kindly contact us on sales@magigoo.com if you want to know more about resellers in your area or if you wish to become a reseller of our products!
7. What is Magigoo PPGF?
Magigoo PPGF is a build-plate adhesive specifically formulated in collaboration with Owen's Corning for printing with Glass fiber reinforced PP materials. In fact, PPGF is Magigoo PP's stronger cousin, offering a stronger adhesion platform for the stiffer reinforced polypropylene blends. It can also be used to provide extra adhesion over Magigoo PP for PP type materials.
However, unlike with Magigoo PP, when using Magigoo PP-GF parts are much more difficult to remove. We recommend that the build-plate is heated up to 80 °C for safe and easy part removal when using Magigoo PPGF. Want to know more about printing GF-30PP? Click here!
8. Why is the 120mL bottle not better value than the 50 mL bottle?
The 120 mL bottle is a specialty product designed to be used on larger printers due to it's bigger applicator. Unlike the 50 mL bottle the 120 mL bottle is produced in much smaller quantities due to its niche application. As a result, the 120 mL bottle is much more expensive to produce per unit leading to its higher cost.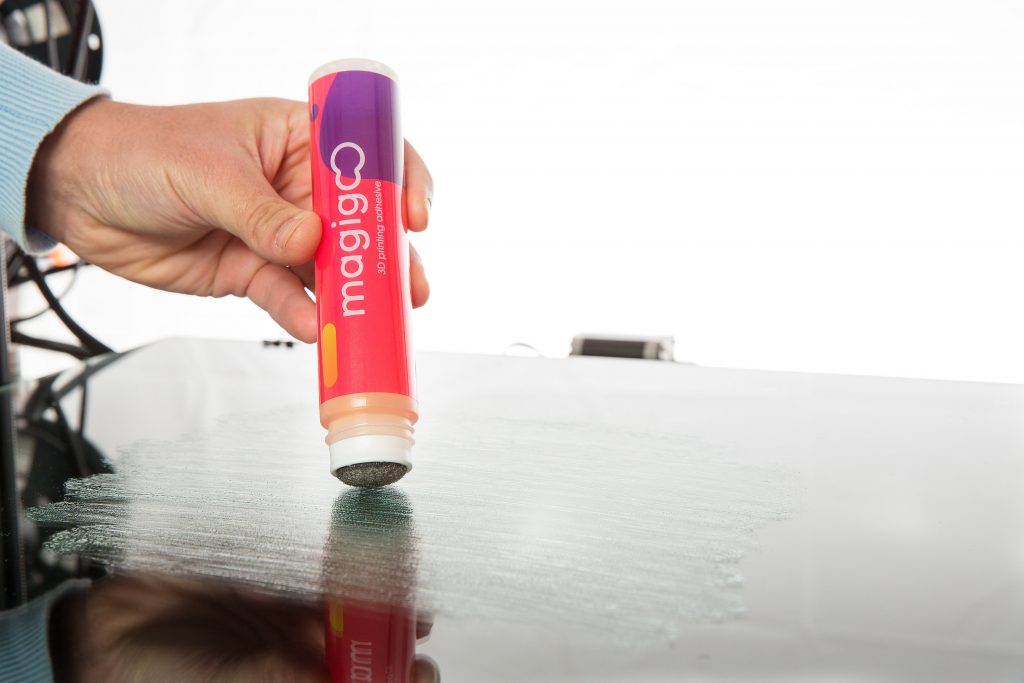 9. Magigoo now has a blue applicator tip, why?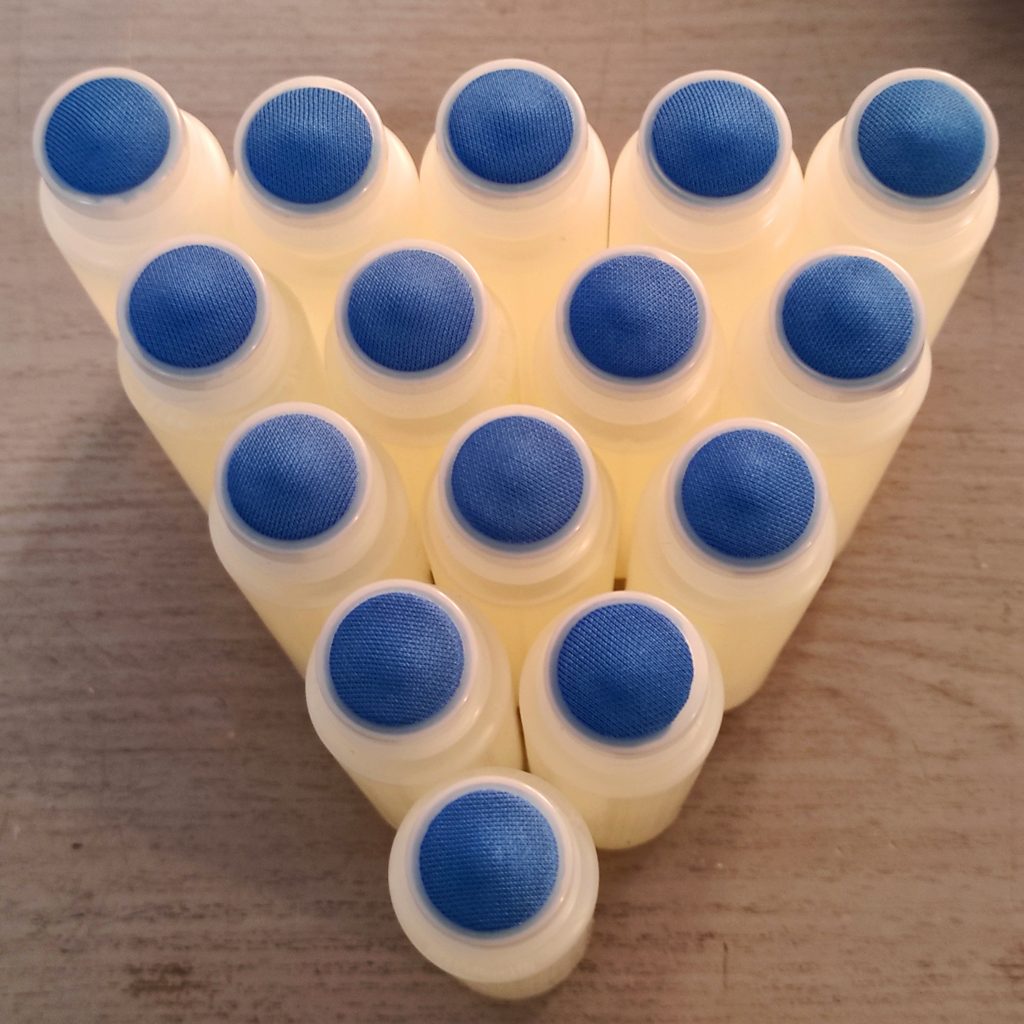 The applicator tip of the Magigoo bottle has been recently changed from a black foam tip to a more durable blue fabric material. The new material is more resistant to wear and is also more temperature resistant. Nonetheless, these precautions below should be followed to extend the lifetime of the applicator tip:
Always apply on a clean bed
Never apply when the bed temperature is above 40 °C
Do not apply excessive amounts of glue, a little bit goes a long way
Keep the cap on and tightly secure when the bottle is not in use
If you see any build-up of goo or gunk on the applicator tip or the inside of the screw-cap you can clean it using a few drops of water to dissolve the goo and a damp cloth to wipe it off
Kindly contact us on feedback@magigoo.com should you experience any issues with the Magigoo applicators.
10. What is the Magigoo Coater?
We have recently added the Magigoo coater to our product page. This new product is aimed for printers with very large build-plate and print farms with several or more printers. The Magigoo coater enables you to pump once and spread the layer with thin film applicator in a quick, convenient and reliable manner on your FDM printing surface. Learn more about the Magigoo coater here!
If this information still does not answer your questions, feel free to drop us a line at feedback@magigoo.com