Unlocking more 3D printing applications with advanced engineering FDM materials
The partnership between Ultimaker and Magigoo producer, Thought3D accelerates the adoption of a wide variety of engineering FDM materials through an improved user experience.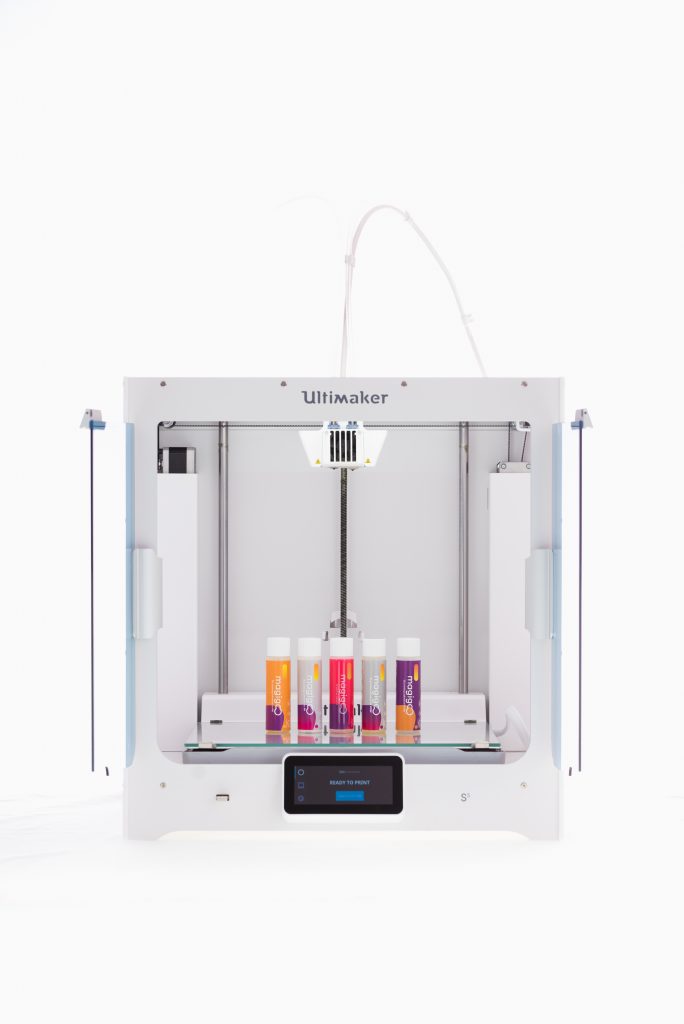 Good first layer adhesion and easy print removal is a must for successful and hassle free FDM printing experience. This is often not true for a vast number of FDM materials. Often, the first layer of the print does not stick properly to the print bed or else, the print sticks so well to the build plate and cannot be easily removed after printing is complete.
A bespoke 3D printing adhesive applied as a layer between the build plate and the printed material offers strong adhesion during printing, whilst making removal after print possible.
Engineering grade materials, such as polycarbonates, nylons and polyolefins tend to require additional build-plate adhesion. These engineering materials tend to be more challenging to print with due to their thermomechanical behavior, and adhesion often show limited adhesion to conventional printing surfaces.
As a result, the use of a 3D printing adhesive as an interface layer is essential to get a reliable and successful printing experience.
However, choosing the right adhesive solution for engineering FDM materials is not straightforward since a one-size fits all solution does not exist. While there are many potential solutions on the market, and not every solution works equally well especially when taking into consideration the vast amount of FDM materials on the market. This presents a huge problem for customers that are moving to more advanced applications. Thought3D's full product line of Magigoo adhesives offers an excellent solution for nearly every FDM material available. Whilst offering optimized performance for consumer and engineering FDM, Magigoo adhesive also offer unparalleled ease of use and consumer support. Magigoo products are designed to be easy to apply, long lasting and ensure easy print removal and clean-up. The complete lineup is formulated to be environmentally friendly, safe to use, water-based, and non-flammable.
The portfolio currently consists of the following seven professional products covering the large majority of applications and materials: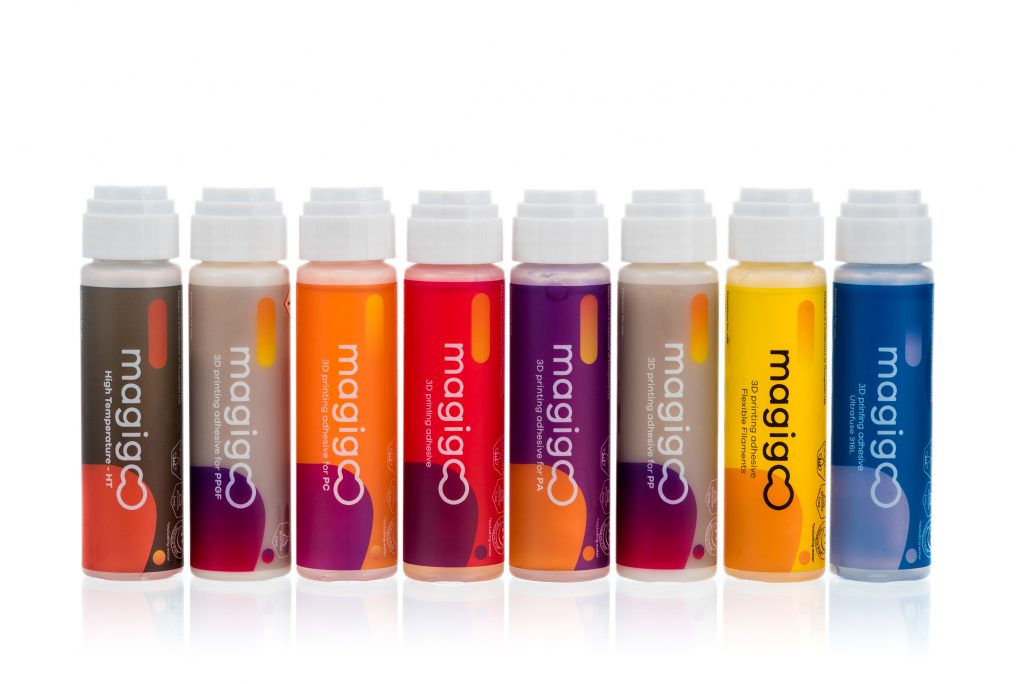 Thought3D can develop custom adhesive formulations that meet specific requirements. This enables novel adhesives to be formulated for specific materials or circumstances where other adhesive solutions fall short. An example is the collaboration with Owens Corning which has led to Magigoo PPGF adhesive for X-Strand™ GF30-PP.
It is not surprising that the usage of Magigoo has been steadily growing. More and more industrial customers are now using Magigoo on a daily basis to achieve perfect prints with great adhesion and release.
This is perhaps best shown by Ultimaker, a global leader in desktop 3D printing, at its FormNext 2019 booth. 8 out of the 10 selected advanced engineering applications from actual customers made the use of Magigoo adhesives. The applications included functional prototypes, replacement and end-use parts for applications in automotive, defense, packaging, aerospace and industrial engineering. This highlights the fact that in almost all cases, Magigoo is the best adhesion solution on the market.
Ultimaker, as a result, has become one of Magigoo's largest ambassadors. Lars de Jongh, one of Ultimaker's application engineers said that "Application engineers within Ultimaker use Magigoo daily as their adhesives of choice because of the extra peace of mind that they offer and we suggest Magigoo products to our key clients" Magigoo has established itself as the go-to adhesion solution for many industrial customers and 3D printer manufacturers. The extensive Magigoo range combined with its unparalleled support and Thought3D's ability to offer custom solutions makes Magigoo the go to product for professional and reliable first layer adhesion for engineering FDM materials.
About Ultimaker Since 2011, Ultimaker has built an open and easy-to-use solution of 3D printers, software and materials that enable professional designers and engineers to innovate every day. Today, Ultimaker is the market leader in desktop 3D printing. From offices in the Netherlands, New York, Boston, and Singapore – plus production facilities in Europe and the US – its global team of over 400 employees work together to accelerate the world's transition to digital distribution and local manufacturing
About Thought3D Thought3D is a R&D company based in Malta. Thought3D combines knowledge of 3D printing, materials and chemistry and provides products and services for reliable additive manufacturing. In 2014 the company experienced the first layer adhesion problem first hand and came up with a novel smart adhesive that sticks when hot and releases when cold. Today, Thought3D produces and sells Magigoo and Magigoo PRO adhesives worldwide through a network of resellers and industry partners. Thought3D aims to provide a superior user experience in 3D printing.