What is Magigoo and Why should I use it?
What is Magigoo?
We wouldn't blame anyone for thinking that Magigoo is a magical formula that solves all first layer adhesion mishaps. This is in fact only partly true, since as we all know, unfortunately Magic isn't real. Magigoo however is real and is also a bespoke solution scientifically formulated for solving first layer adhesion issues plaguing various FDM plastics.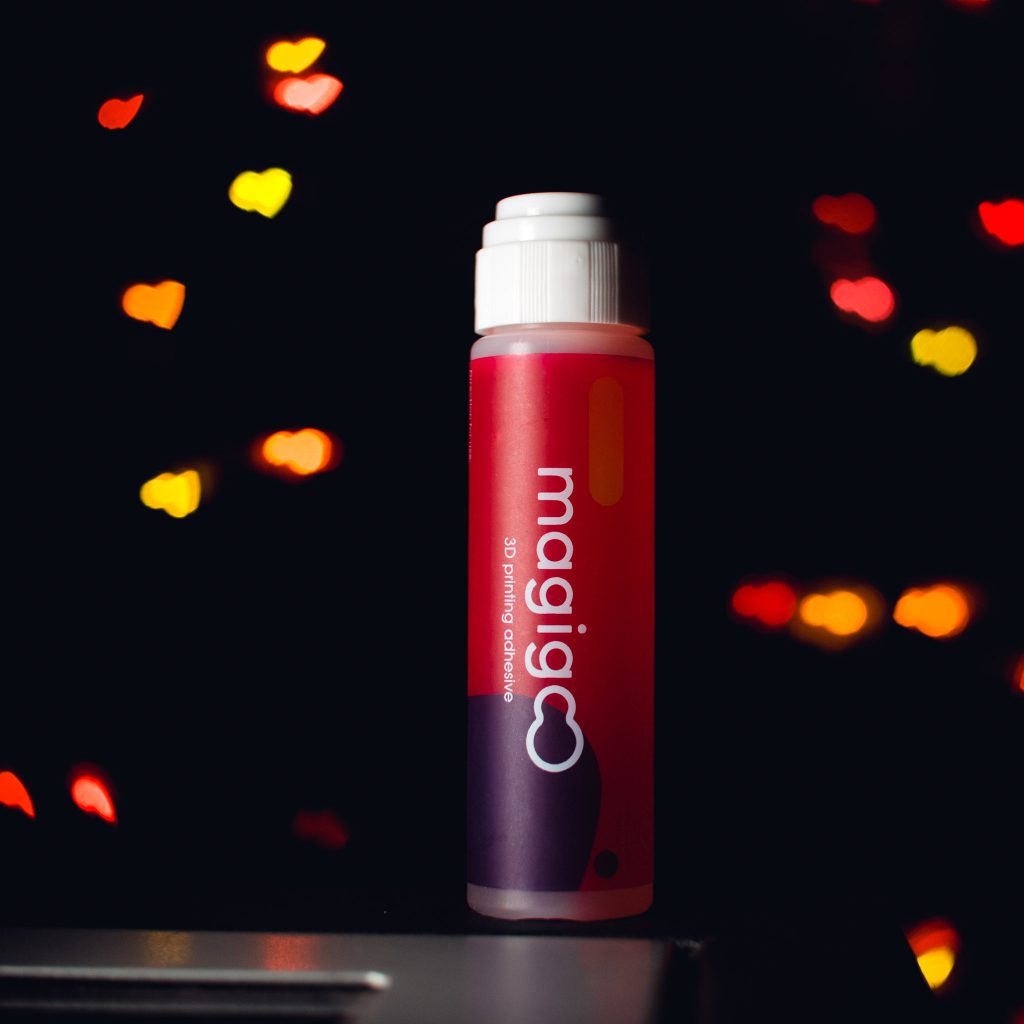 Our adhesive range is not just about providing the best first layer adhesion for your printed parts. Each adhesive is developed in-house by our R&D team. Here we evaluate the chemistry of the formulation but also develop it in tandem with real word 3D printing tests in order to asses adhesive performance and usability. This is done whilst keeping the use of nasty chemicals to a minimum.
How it works
Magigoo adhesives are easy to use and only require that you apply them by spreading a thin coat on your build-plate, printing and then easily removing the part. As an interface layer, Magigoo will increase the adhesion of the printed first layer to your build-plate substrate.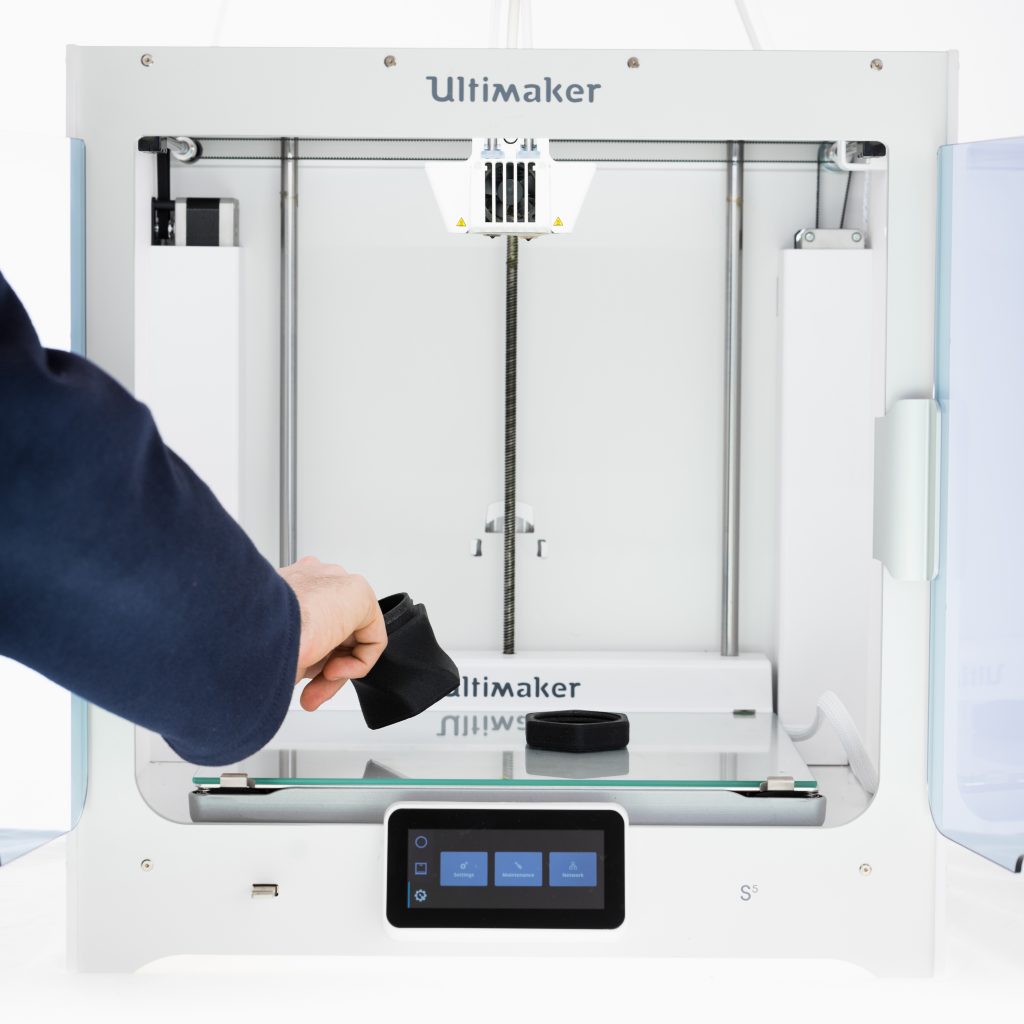 Thermoplastic materials usually have a very different chemical make-up to the build-plate material. As a result there is a big difference in surface energy often leading to poor adhesion especially for engineering thermoplastics.
Getting your 3D printed part to adhere well to the build-plate is only the first part of the job. Apart from bridging the gap in adhesion between the thermoplastic and the build-plate, the interface layer provides an additional feature. In order to be able to use the part you must also be able to remove it from the build-plate. This is actually the 'Magic' part of our adhesives as it lets the user to very easily remove 3D printed parts from the build-plate. The part removal process will depend on the type of adhesive, the printing surface and the printing material being used.
Build-plate material compatibility
The adhesives work on heated build-plates, with glass surfaces giving the best results. However, Magigoo also works very well with a variety of build-plate surfaces . The build-plate material will have a direct effect on first layer adhesion. The adhesives are generally designed and optimized primarily on glass build-plate surfaces. This includes a variety of glass types such as normal glass, borosilicate glass and ceramic glass.
Other common surfaces such as PEI, Buildtak (PC), and Kapton tape show similar levels of adhesion to glass build-plates when Magigoo adhesives are used. This is true for the vast majority of 3D printing materials. Extensive material testing has however highlighted that a few engineering grade 3D printing materials might show a slight drop in adhesion when printed on a surface other than glass, with Magigoo adhesives. Nonetheless, the use of our adhesives will still improve the adhesion of the print to that particular surface when compared to printing on the same surface without any adhesive solution.
The use of Magigoo can also extend the life of you build-plate surface. The adhesive in fact acts as an intermediate layer between the build-plate material and the print. In some cases, such as when printing flexible materials, Magigoo Flex can act as a release agent making part removal much easier!
A Magigoo for every situation
Our range consists of 8 different adhesives:
| | |
| --- | --- |
| Magigoo Original | PLA, ABS, PETG, HIPS, etc. |
| Magigoo PA | Nylon, Nylon-CF, Nylon-Gf |
| Magigoo PC | PC, PC-ABS |
| Magigoo PP | PP |
| Magigoo Flex | TPE, TPC, TPU |
| Magigoo HT | PEEK, PEKK, PVDF, Ultem |
| Magigoo PPGF | GF-30PP |
| Magigoo Metal | BASF Ultrafuse 316L |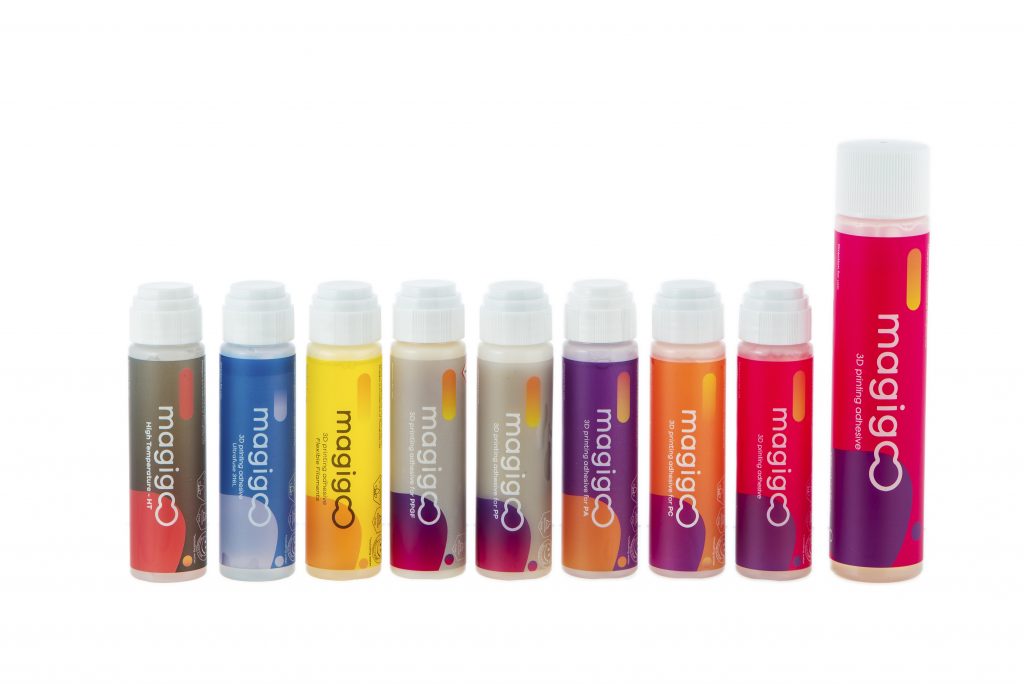 As shown in the table above each Magigoo adhesive works with a specific family of thermoplastics. Each thermoplastic family is different in terms of chemical make-up, physical properties and also thermal properties. As a result apart from showing different adhesive requirements in terms of surface energy, different materials also impose different thermomechanical requirements from the adhesive.
From our tests, a specifically formulated adhesive for your 3D printing material, not only gives optimum adhesive performance but also the best 3D printing experience in terms of ease of use. In fact we believe that there is no such thing as a one-size fits all solution when it comes to first layer adhesion due to the different properties of thermoplastics.
For this reason we always recommend using the appropriate Magigoo adhesive for your 3D printing materials. Firstly, adhesive performance will be affected if the wrong adhesive type is used. Furthermore, even though in some cases a material can show good adhesion with several Magigoo adhesives, there might still be issues with the part removal process. For example, ABS can probably be printed without warping on most Magigoo adhesive formulations. However when using formulations other than Magigoo Original for ABS it can increase the chances of glass chipping or the part getting overly-stuck to the build-plate.
Magigoo is Safe and Easy to use
As we've already mentioned, when formulating our adhesives, we also ensure that our adhesives are as easy to use as possible and with the least amounts hazards to the user. In fact all Magigoo adhesives are water-based and solvent-free. Having an adhesive which is water based has several advantages including non-flammability, and the fact that the adhesive residues components are water soluble. Apart form being water soluble Magigoo residue can be easily cleaned with a cloth or sponge dampened with water.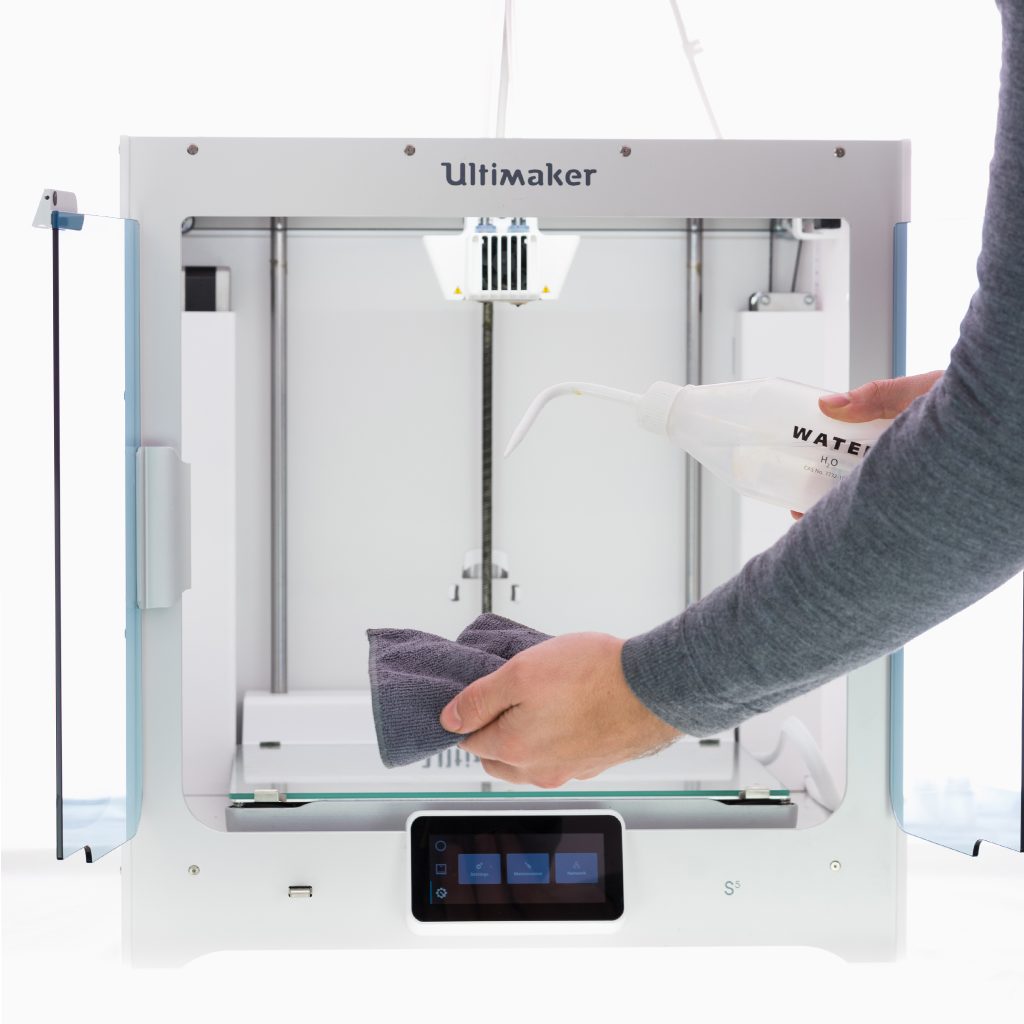 The dab type applicator bottle also ensures that Magigoo is easy to apply. No additional components such as brushes are required to spread the adhesive. Furthermore when using the nib type applicator one can be more specific with his adhesive application. This means that the user can only apply adhesive to the area being printed on. Furthermore, unlike spray type application systems, this application method prevents overspray from landing on your 3D printer components or work area.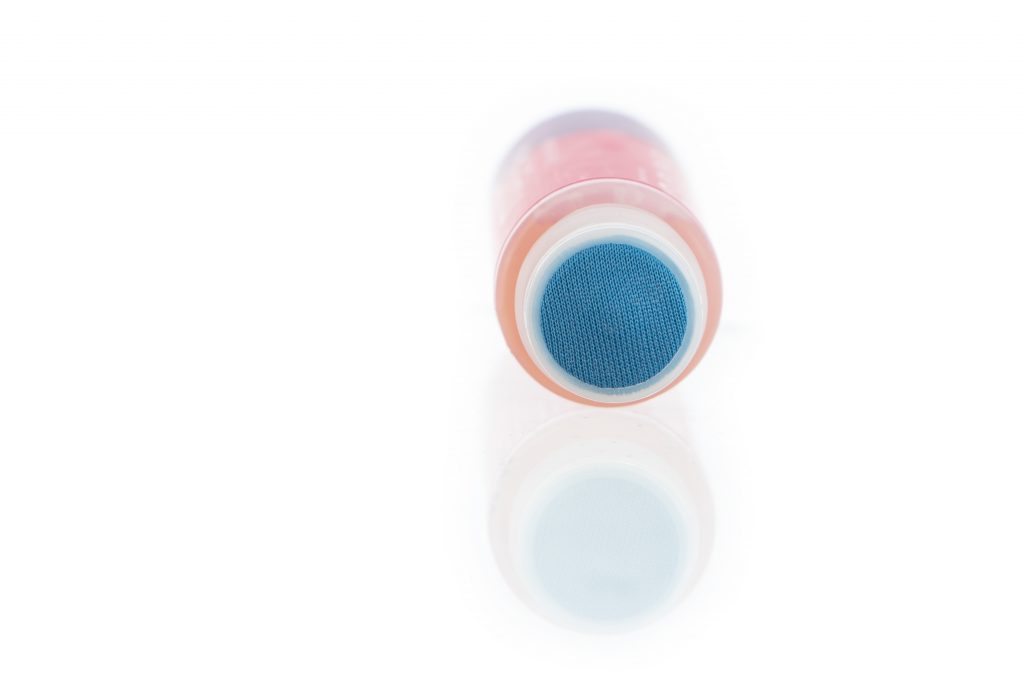 Since Magigoo is safe, water-based and easy to use, it is ideal for educational use given the low hazards associated with using this adhesive. The water-based formulation and the non-pressurized bottle also make it easy to ship and import across different countries. In fact it can be easily transported by air. You can actually take the 50 mL Magigoo in your hand luggage at the airport should you wish to!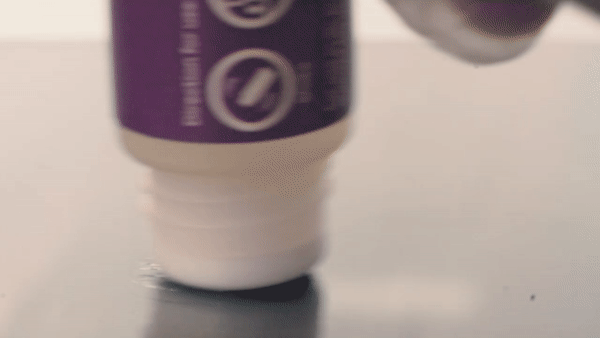 Another advantage of the applicator type bottle is less wastage of adhesive. Given that a Magigoo® bottle should last well over 100 full size prints on a medium sized printer. It will last even longer if you apply only on the area going to be used for printing.
More than an Adhesive
Lastly, but certainly not least, we pride ourselves in providing not just an adhesive but also numerous resources. This helps you achieve the most out of our adhesive products. Should you have any difficulties or have any queries related to first layer adhesion, feel free to drop us a line on info@magigoo.com. Our wizards are more than happy to help and follow up to your queries!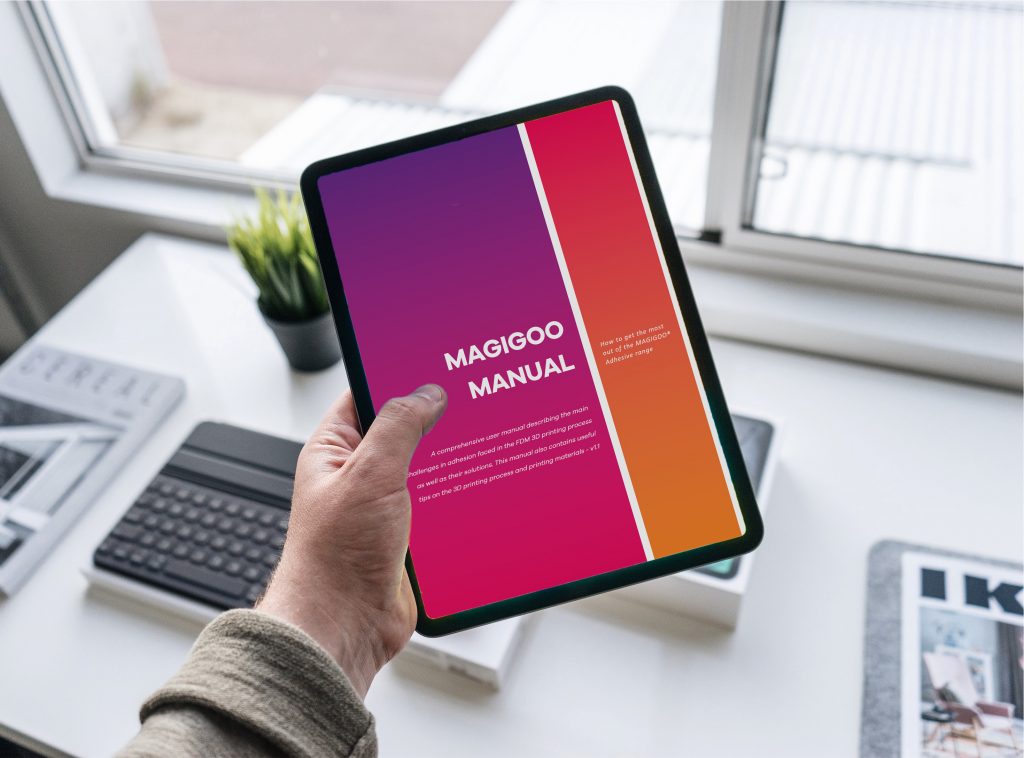 To learn more about Magigoo Adhesives you can also download our free Magigoo Manual. This manual contains information about Magigoo, first layer adhesion and helpful 3D printing tips. You can also check the optimal settings for your material on our Tested Materials Database which contains specific printing settings for material, adhesive and printer combinations!